Employment
Opportunities
Great employees are the key to our success. We are looking for caring, talented employees who take pride in their work. We believe in working hard, doing a good job, and having fun. For more information please visit our website at www.redriverbank.com. Our niche lending website can be found at www.airloan.com.
Halstad Location: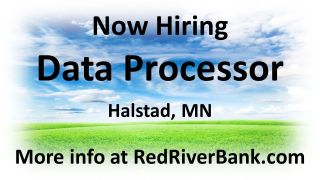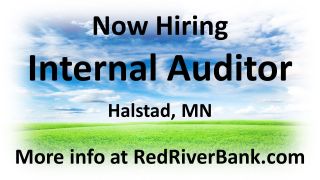 -Data Processor/Administrative Assistant (includes some Internal Auditor functions):
Part of team responsible for managing & performing a variety of accounting and data processing processes in operations. Part of team responsible for the overall audit function, research and special projects for the bank. Assists external auditor and carries out internal audits and examinations and submits reports to management and required officers. Investigates discrepancies and answers inquiries concerning audits made. Makes recommendations for improving banking functions. Assists in the daily operations of the bank as needed which may include greeting, processing and handling customer banking needs, in person or via telephone. Assist Manager(s) in daily activities.
 
Fertile Location: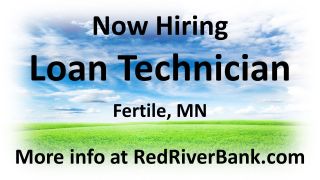 -Loan Technician:
Provide support to the lending team through customer service, preparing loan documents, maintaining loan files, and processing a variety of deposit and loan-related transactions. Administrative assistant to all Loan Officers. Back up teller and vault teller.
To apply: contact Danielle Harless, Vice President with a resume and three work-related references via email: Danielle.Harless@RedRiverBank.com or mail to her attention at:
Red River State Bank
PO Box 25
Halstad, MN 56548
Mark your envelope "Confidential"
*All applicants and inquiries will be held in strict confidence. 
Red River State Bank is an Equal Opportunity and Affirmative Action Employer